Team India vice-captain says form not a worry, requests people to check their facts
MUMBAI: Among Ajinkya Rahane's many praiseworthy attributes are his ability to dodge tricky questions with agendas in a press conference. That quality has held him in good stead upon his return from a successful tour of Australia where he was asked about surrendering authority to Virat Kohli. However, question him about his own form, especially while tackling the spinners in Indian conditions and you get a steely response from the vice-captain.
Rahane has totalled just 85 runs in five outings with a highest of 67 in the second Test in Chennai. He also remains the only Indian batsman in the top six who is yet to cross the cumulative three-figure mark in the series.
He was asked to shed some light on whether there was any physical or mental barrier that is stopping him from dominating spinners while playing at home where his numbers have been modest when compared to playing overseas.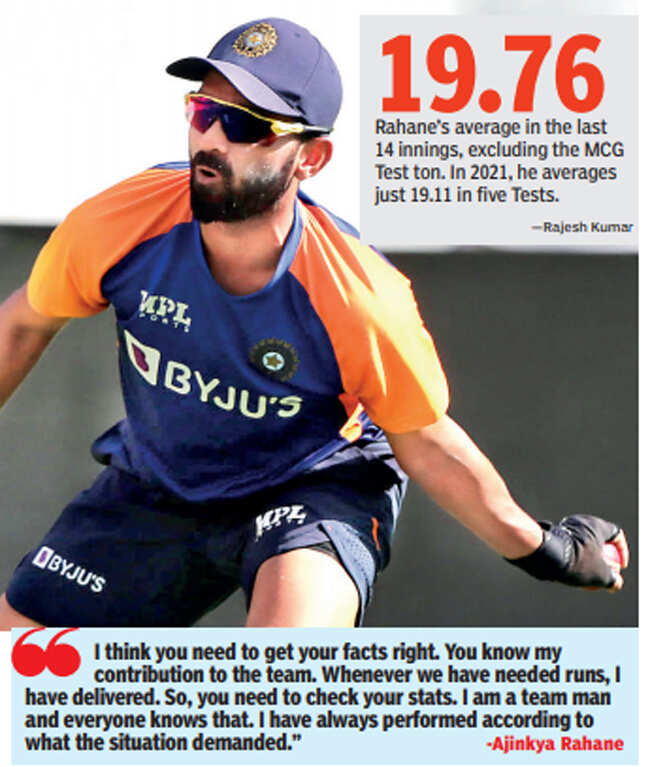 His sequence of scores in the current series reads: 7; 67, 10; 1 and 0 and four of those dismissals have come against spin. "I was expecting someone to ask this question and thankfully, you asked," Rahane pointed out defiantly during the virtual press conference two days prior to the start of the fourth Test at Ahmedabad.
"I think you need to get your facts right," he shot back and added, "You know my contribution to the team. Whenever we have needed runs, I have delivered. So, you need to check your stats. I am a team-man and everyone knows that. I have always performed according to what the situation demanded. So, I am not concerned about it. Yes, as a player I look to keep improving. That's really important," he stressed.
Fielding drills ✅@Paytm #INDvENG https://t.co/fAdEKZ2YYA

— BCCI (@BCCI) 1614674796000
The hosts have logged back-toback convincing wins after losing the series-opener in Chennai. But those memories are now distant. A massive prize in the form of the World Test championship final at Lord's is dangling in front of the team and Rahane, who is not a part of the ODI set-up, concurred with fast bowler Ishant Sharma in stating that a win in the June 18-22 final against Kiwis, a team that has never ceased to surprise, will be akin to a ODI World Cup triumph.
01:49How a cricket pitch is prepared "Absolutely, Ishant was spot on. It will like winning the World Cup. But having said that, we are focusing on this Test and then we will think about the WTC final," he said.
Indeed, India have a job to get done first, as sporting history is replete with instances of overconfidence consuming the most decorated of sporting sides and individuals.
Training ✅@Paytm #INDvENG https://t.co/G7GCV1EA8U

— BCCI (@BCCI) 1614593190000
For that to happen though, England, who have looked completely at sea while tackling the brilliant spin duo of Ravichandran Ashwin and Axar Patel, need to bat better than they have in the last two outings. "They played really well in the first Test so we can't take them lightly," he stressed.
Rahane also hinted that fast bowler Umesh Yadav may make the team as Jasprit Bumrah's replacement. "Umesh is ready to go. He's looking good and bowling really well," Rahane stated.
'Constant criticism of the pitch does not affect dressing room'
Meanwhile, Rahane dismissed all the criticism that has taken place post the win in the 3rd Test in Ahmedabad on a pitch that was a spin bowler's dream. The D/N match ended well within two days and tongues got wagging. "It does not affect the dressing room at all," he insisted.
"Let people speak what they want to. When we tour abroad, no one speaks about how seamfriendly the track is. They always speak about the technique of Indian batsmen. I don't feel we take seriously what people say," he added. "We haven't complained when wickets abroad were damp or of uneven bounce. We have never spoken about it."
Talking of what one can expect of the pitch from Thursday, Rahane said: "I think the wicket will be similar to the 3rd Test match. It will also be similar to the track on which we played in Chennai. It will be a spinning track. Yes, the pink ball made a difference. It comes much quicker on to the bat compared to the red ball. But as I said, the wicket will be a lot similar to the third Test."